Star Trek Bridge Crew on Oculus Quest 2, Troubleshooting Videos
As requested by Ubisoft: videos and voice chat link.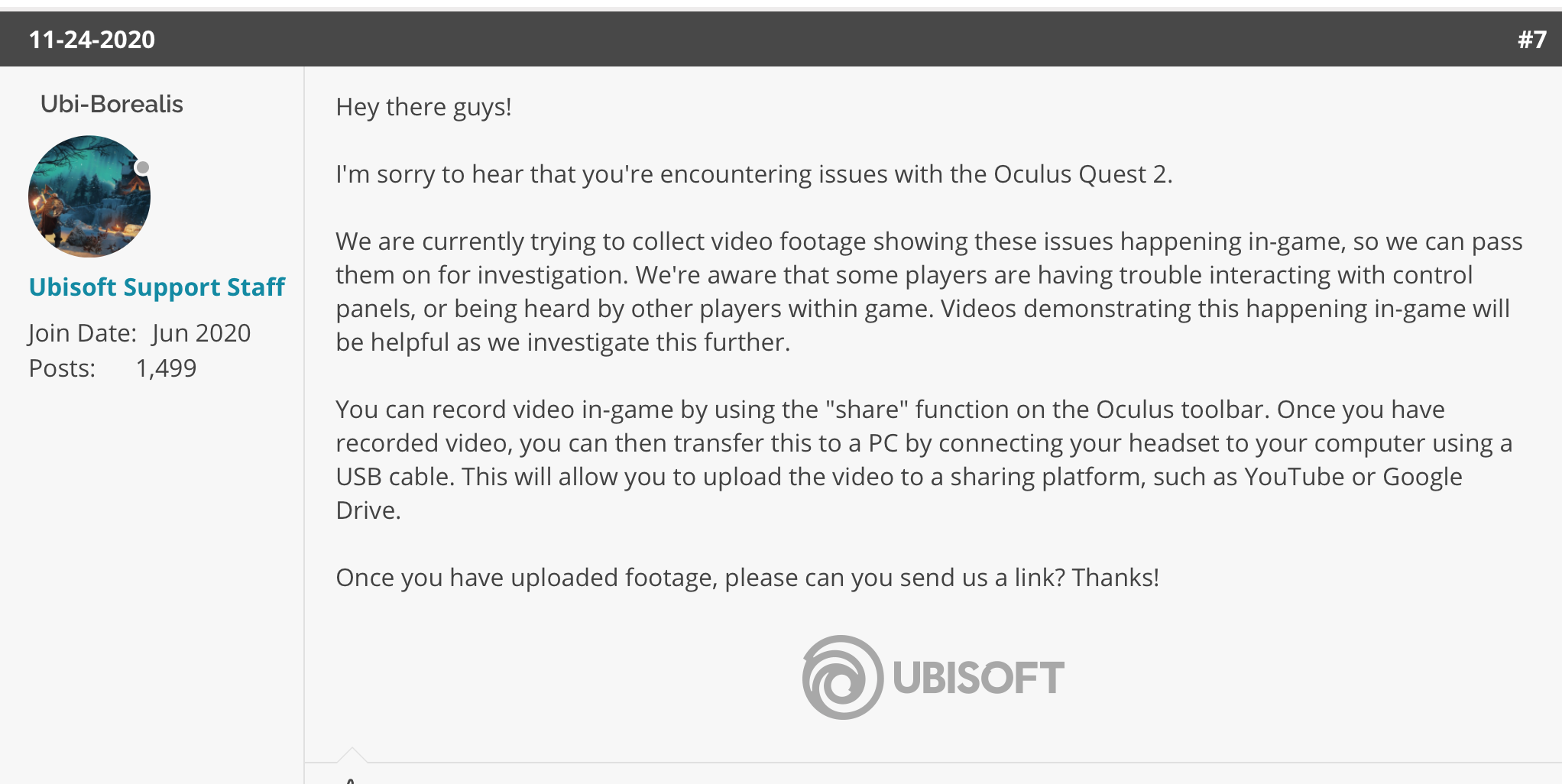 Ubisoft Forum
Bugs:
No audio from a player
Super-quiet, tiny-bubble voice from a player
Controls not responding
No launch button for captain with all stations taken
Things we tried:
Exiting completely and restarting Star Trek Bridge Crew app (always successful)
Quick off/on of side-power button
Entering left menu and returning
Leaving app and coming back in (quick - for start/stop video recording)
Returning to the shuttle-ready room
Adjusting console height/distance
Leaving video recording on
Live chat:
Talk with myself and other players on our Discord:
https://discord.gg/KHBQeEU. You can find me there as Slate. This is the United Stellar Navy (USN) - a community dedicated to spaceship bridge simulators (Artemis SBS, Empty Epsilon, Starship Horizons, Star Trek Bridge Crew, etc.).
Videos showing bugs:
Captain loses audio. At 15 minutes, tactical panel glitches, but is recovered and we lose the captain's audio entirely. We continue with hand-signals and guessing from 18 minutes onward. After the game, we still cannot hear the captain and he ends up quitting out to reset.

Helm controls fail to respond at the beginning of a mission. At 2:36.

Helm controls not doing anything. Another player says my hands were not showing in their view correctly. This problem started right at the beginning of the mission.

Helm malfunctioning continued.